Greetings, ladies and gentlemen! My name is Alik. I want to announce the deployment of the project that we started during Tezos Hackathon in February 2022.
Thanks to the support of the community, working together with all of you, we created what you asked for. We are happy to introduce the Kolibri website with an alternative design.
On our website, you can find features you were waiting for:
New appearence:
Our main idea was to create something new and at the same time all-too-familiar. We decided to use blue and purple colors Here you can view both desktop and mobile versions.

Two themes:
Now, you can choose between light and dark mode. This is very useful when the sun goes down, as it reduces the light emitted by device screens while maintaining the minimum color contrast ratios required for readability.

Internationalization:
This feature provides an opportunity to make Kolibri more worldwide and user-oriented. At the moment we've implemented EN and UA options.

Push Notifications:
Sometimes you need to make a transaction, but Oracle last updated more than 30 minutes ago. In this case, you are stuck. Well, our idea is that you don't need to monitor the website, just tick the bell and leave it open. As result, when Oracle updates the price, you'll get the browser notification.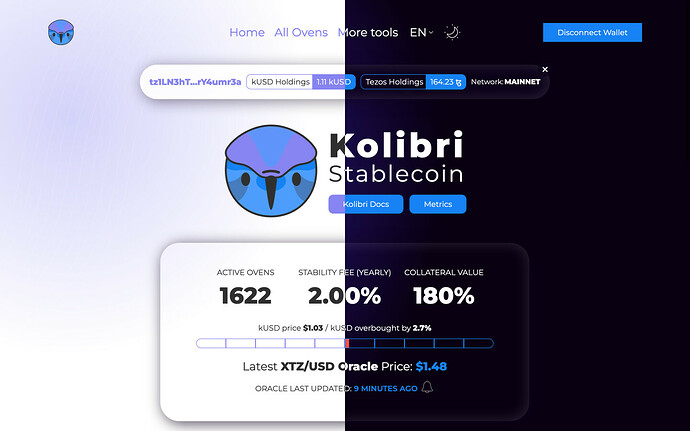 This is not the end!
Of course, we not going to stop on the achieved. We want to develop more. Thus we need your help.
As you may remember, we have already applied for a 5000kUSD grant and received the first half. At the moment, for further development, we want to apply for the second half (2500kUSD) to be transferred to our development team. We really need your support for further creations!
From the last donation we have reached the next goals:
We have refactored our code and made our website faster.
We have created a new logo.
We successfully implemented all features related to ovens.
We successfully deployed.
Your feedback and ideas - our code and features!
I want to mention that your ideas, comments, remarks, and feedback will help us with upgrading our website. You can always DM me in Discord in case you have ideas to implement or you've stumbled upon a bug. Only with teamwork, we can do better!
One more language
We want to add one more translation of the website. Could you please advise, what should it be? Maybe

or

? Share your opinion with us.
Next aims
Next, we are going to implement a docs page with translations to other languages. And of course, the next one is Farms.
Contacts:
Discord: Alik#5272
Email: [email protected]