Greetings to all

First, let me introduce myself: My name is Ehab and I am a Technologist / Developer … I started a small startup named 0xPi & I want to develop web3 solutions because I believe in Decentralized technologies and what they can offer … I've been an independent professional for over 10 years and I got excited when I was first introduced to the DAO concept … I want that for my startup so all my projects will eventually become 100% decentralized.
Tezos ecosystem
When I first started 0xPi I knew exactly where am heading, however I didn't know where to start : Ethereum, Polygon, Solana …etc but then I found Tezos … you can guess what happened next …I never looked back because I can see the future of it and how you can actually build solutions that public & mass users can benefit from beyond financial assets and Defi applications …and am heading there for sure but we are still building solid foundations, right? so projects like Kolibri, DEX applications, LP tokens are necessary for now …
I have a list of awesome projects to work on within the Tezos ecosystem, but I decided to start with Wolver.ME a portfolio tracker built for Tezos, why? because if you are like me, probably you have multiple assets within the ecosystem : Plenty LP, SmartLinK, Ctez and of course Kolibri Ovens … so What am building is a single platform that provides access to the whole ecosystem : insights and information , abilities to swap tokens, stake, invest, farm …etc
The project started as a challenge in the Tezos Ukraine Hackathon … but when the conflict started and the hackathon was postponed/paused … I decided to rebuild the dashboard from scratch.
Currently we are at version 0.0.2 alpha … you can check it out here at https://wolver.me with all its glorious bugs and bulky interface.
At the moment the platform offers the following:
1- List of daily top traded tokens on Quipuswap
2- List of top Bakers
3- Buy XTZ "Verification required"
4- a Dashboard that gives you the following:
List of Tokens in Wallet

Latest Trades in Quipuswap

Latest Trades in Plenty

Liquidity Pools in Plenty DEFi

List of NFTs in wallet

Kolibri Ovens, including updated status, oven contract, Tezos amount and borrowed kUSD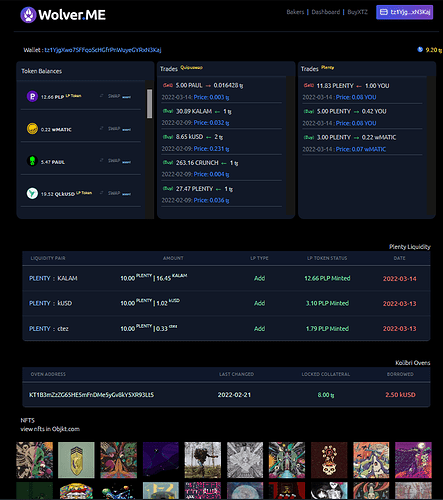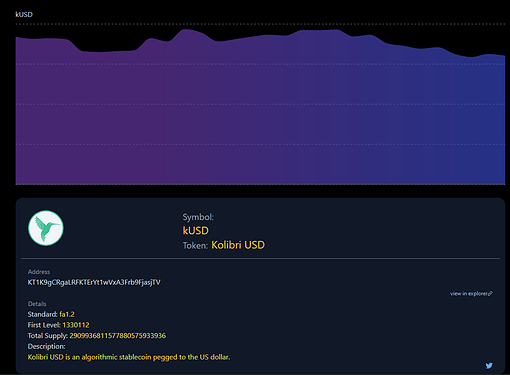 The current goal of the project is not only to view insights and track assets …but actually to interact directly from the dashboard : Stake, Swap, Liquidate , create ovens and so on.
=> So the goal for the coming 6 months, to create a stable version 1.0.0 Beta by October 2022
=> For the Kolibri section of the project, the user will be able to create new Ovens, Track, transfer collateral XTZs, borrow and repay kUSD
=> Farming within Kolibri will be added as well
Current Technology Stack:
=> Python, FastAPI, NodeJS, NEXTjs,Taquito, GraphQL
=> Multiple indexers that collect data directly from Tezos Blockchain, and more will be added within the project period
Economics
Currently the project is self-funded, We're also offering some NFTs to raise additional capital from friends and family until the startup is ready for funding proposals …which is now, gratefully. So I am in the process of raising seed capital to cover development and operations for the next 6-8 months until wolver.me stable version is ready and 0xPi roadmap is clear for the next stage. The total estimated seed required is around 100K us-dollars for this round to build the right team and cover operational expenses.
Kolibri Developers Grant
Eventually, we all want the improvement and well being of the ecosystem and that's why I am approaching the Kolibri fund to support Wolver.ME asap with 6000 kUSDs to boost the development and operational requirements of the project until we secure the needed funds.
The Kolibri section of the dashboard is as important as the rest of the components, and the dashboard itself will be integrated within our daily workflow. and will help more users to quickly adapt to the ecosystem …and we tested it first hand in the current version of the dashboard …for example and as part of our tests, when users of objkt.com "tezos nft platform" connected their wallets with wolver.me they noticed a message in the current kolibri section : "You have no Kolibri Ovens, please visit Kolibri.finance to get you started!" …hence raised more questions about what platforms are there in the ecosystem
Final thoughts
I am a father of 2, and I will be 40 this year … I had the blessings to experience a bit of the 80s, 90s and post y2k …but my kids were born completely in the digital era and by working on this project and this startup, I am building it for me, for them and for you … so your support is important not only for the needed 6000 kUSD, for future rounds as well, and for you to test, experience and improve the process
Best
Ehab Othman